Counterstrike & Cooh / C-Netik Featuring Gancher & Ruin - Crowd Surfer / Hammer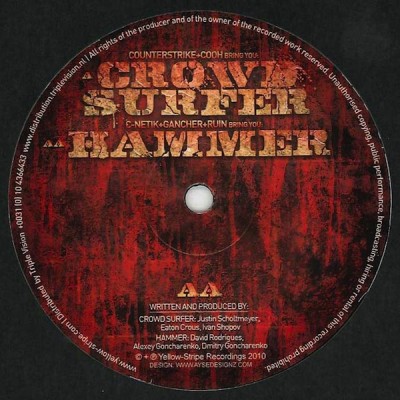 Artist:
Counterstrike, Cooh, C-Netik & Gancher & Ruin
Label:
Yellow Stripe Records
Product Code:
YSR 001
Genre:
Crossbreed
Year:
2011
Format:
12 inch
Availability:
In Stock
0 reviews
Write a review
Write a review
Your Name:
Your Review:
Note: HTML is not translated!
Rating:
Bad
Good
Enter the code in the box below:
Description
This is the first in a series of hard and powerful D&B releases, featuring well known artists Counterstrike in collaboration with Cooh, delivering the anthemic 'Crowd Surfer', which showcases the trademark sound of the artists involved... an effort that's sure to make dancefloors erupt.

Upcoming young talents Gancher, Ruin and Yellow-Stripe member C-Netik follow it up with the monstrous 'Hammer', an ear-splitting mixture of bone shaking sounds that both Hardcore and Drum & Bass heads can bang their heads to.