The Hard Way - Devil Worshipping Motherfuckers / Pentragram Of Coke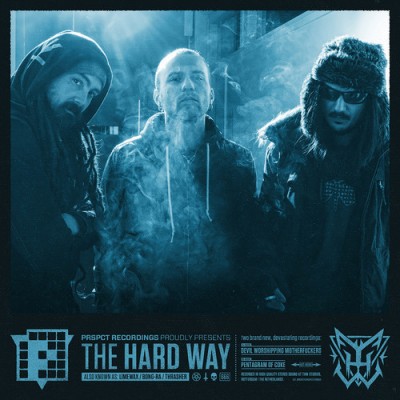 Artist:
The Hard Way, Limewax, Bong-Ra & Thrasher
Label:
PRSPCT Recordings
Product Code:
PRSPCTVSPRSPCTXTRM 666
Genre:
Crossbreed
Year:
2013
Format:
12 inch
Availability:
In Stock
0 reviews
Write a review
Write a review
Your Name:
Your Review:
Note: HTML is not translated!
Rating:
Bad
Good
Enter the code in the box below:
Description
The Hard Way are working hard on a full length album that is planned to be released on PRSPCT after the summer. To keep everyone entertained till that time here is a new full color artwork release on Blue vinyl by these Dutch Hardcore Drum & Bass PRSPCT Warriors!!!
On the A side we have: Devil Worshipping Motherfuckers
This tune has been creating a big buzz already. Crazy Amens, 4/4 hardcore Rave. This track has it all.
If a dance floor needs destroying. This is the tune to drop!!
On the flip of this release we have: Pentagram Of Coke
The guys felt like experimenting with 190 BPM instead of the usual 175 BPM and Pentagram Of Coke was the result. A (UK) Hardcore influenced monster with a Breakcore centre piece followed by a filthy extra hard kick after the second drop to fuck shit up even more.
Includes download code sticker on back of cover.